UPH Academic Journals is a service of the Center for Research and Community Development (LPPM) in cooperation with the Johannes Oentoro Library and Information Technology Directorate to support research and scholarship through open access journal publishing at the Universitas Pelita Harapan. UPH Academic Journals uses Open Journal Systems (OJS), an open-source solution for managing editorial processes and online publication.  All UPH Academic Journals 

OJS has been developed by the Public Knowledge Project through its federally funded efforts to expand and improve access to research.
If you would like additional information about UPH Academic Journals services, please contact us at lppm@uph.edu.
A B C D E F G H I J K L M N O P Q R S T U V W X Y Z All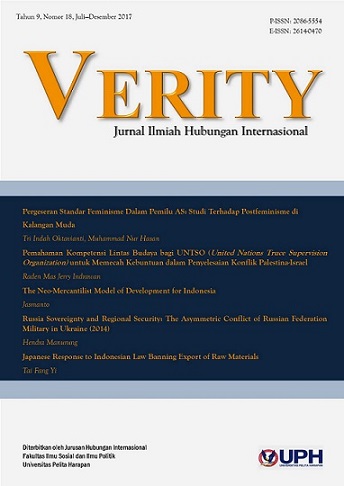 Verity: Jurnal Ilmiah Hubungan Internasional (International Relations Journal)
Verity: Jurnal Ilmiah Hubungan Internasional (International Relations Journal) is published by the Faculty of Social and Political Science of Universitas Pelita Harapan. The journal aims to facilitate the exchange and deployment of scientific ideas by academics and practitioners in the field of International Relations. The topics in Verity consist of International Political Economy, Security Studies, Poverty and Social Gap, International Development, Regional and International Cooperation, International Organized Crime, Human Rights, Nationalism and Conflict, Global Governance, Gender, Globalization, Diplomatic Relations, and Economic Development. Verity has been published since 2009 and it is a bi-annual publication with an issue in January-June and another in July–December.
2086-5554 (print ISSN) | 2614-0470 (e-ISSN)
View Journal | Current Issue | Register
Visio Justisia
Visio Justisia is published by the Faculty of Law of Universitas Pelita Harapan in collaboration with the Faculty of Law of Atma Jaya Catholic University of Indonesia and serves as a venue for scientific information in the field of law resulting from scientific research or research-based scientific law writing. It covers a broad range of topics, including Business Law, Antitrust and Competition Law, Intellectual Property Rights Law, Criminal Law, International Law, Constitutional Law, Administrative Law, Agrarian Law, Health Law, Adat Law, Environmental Law, Banking Law, Cyber Law, Bankruptcy Law, WTO Law, Investment Law, Tax Law, Human Rights Law, Alternative Dispute Resolution and Arbitration Law, and Labor Law.